The Atlantic continues to sleep in early August, which is good news for those hoping to avoid hurricanes. Although the calm will certainly end eventually, any day that passes through August and September without a thunderstorm is a good day.
Tropical Perspective in One Sentence
Things remain calm in the Atlantic Basin with no real development expected over the next week.
Where to watch in August
As the calendar shifts into August, we enter the heart of hurricane season. Basically, mid-August to late September is our marathon stretch. For Houston, our risks in August are still mostly close to home.
Using NOAA's Fantastic historical hurricane tool, we can get an idea of ​​where to look specific to Houston. Since the 1800s, Houston has seen 10 hurricanes within 100 miles of downtown in August. If you expand that to include tropical storms, the number jumps to 17. With the exception of the 1915 storm (deserving a blog post someday), all August hurricanes in Houston formed either in the westernmost Caribbean or Gulf. In other words, while we watch the deep Atlantic and often discuss long-track hurricanes, they generally don't impact us in August. That's not to say they can't, as 1915 proves, but our attention should be mostly focused near home this month.
Yes, we're talking about tropical waves that struggle across the Atlantic, but hold together enough to eventually build up in the Gulf. But we are also looking for storm complexes rolling from the Gulf Coast into open waters. Or early season (weak) cold fronts dying in the Gulf.
Notably, of the 17 hurricanes and tropical storms (including Harvey) that passed within 100 miles of Houston in August, 15 formed in the Gulf or the far western Caribbean. Again, closer to home, this is where the meat of our risk is in August. This also means that storms can form quickly, so it's important to have a plan and preparations in place if anything were to form.
Something to watch now?
If we look across the Atlantic Ocean, there really isn't much going on right now.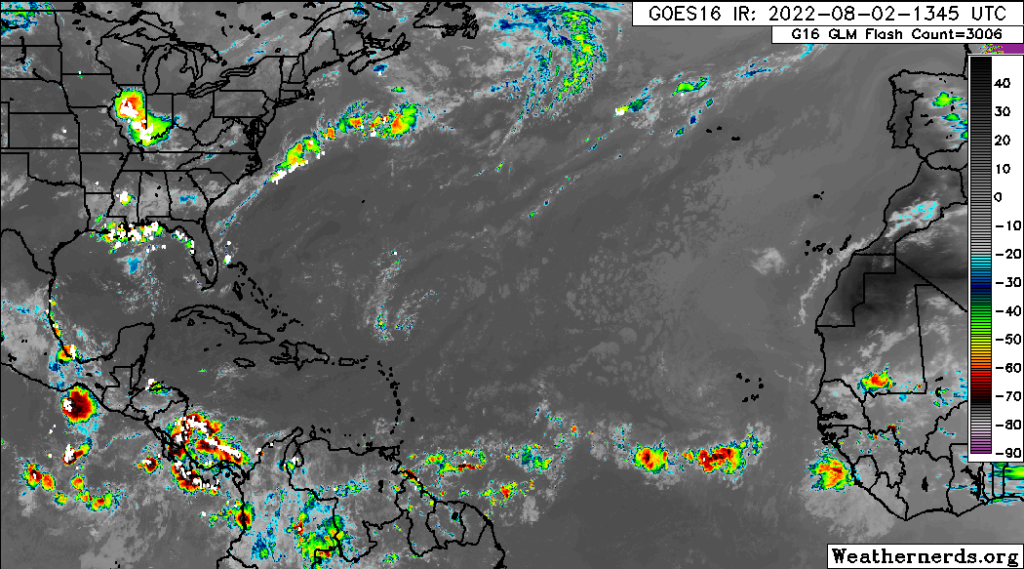 We have a few waves that are disorganized in the open Atlantic, but none that are currently expected to develop as it moves west. There are a handful of model ensemble members who are somehow trying to develop one of the next waves that will emerge from Africa. But to date at least, there is no reliable pattern indication showing anything in the Gulf over the next 7-10 days or more. That said, with fairly frequent storm clusters hovering near the northern gulf over the next week, I wouldn't entirely rule out something trying to weakly organize, although I think it would stay east of the Texas.
But for August 2, that's about as good as it gets. The Atlantic remains stuck on 3 named storms and is now starting to drop below the season's average in terms of storm intensity. Still, using this metric, 92% of the season is ahead of us. It's still far too early to declare the season a "collapse", and it's extremely important to remember that a single storm can ruin the entire season for a given location. That's exactly what Alicia did in Houston in 1983, the 5th quietest hurricane season on record. So beware of bold statements on August 2.